Welcome to Virtu-Well: Therapeutic Virtual Reality
What is VIRTU-WELL?
VIRTU-WELL is the first therapeutic program of its kind using, custom configured technology to deliver high-quality Virtual Reality experiences to older adults as well as individuals with physical or cognitive impairments. We take a person-centered approach that focuses on the preferences & passions of the individual and is designed to provide enjoyment as well as result in a range of therapeutic outcomes.
We aim to improve Quality of Life by providing a way for individuals of varying ability levels to participate in new experiences and relive the past in a way that resonates on a deeply personal level. 
To schedule a session, feel free to contact a team member or use our online booking system.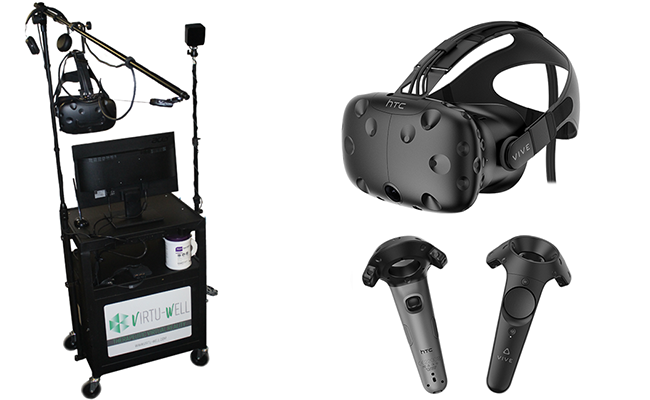 Custom-Configured Technology
Our custom configured systems are designed with comfort in mind and are optimized to function well with individuals who may have physical and/or cognitive impairments. During each session, our technology enables us to maintain constant communication to alleviate potential isolation, while preserving the immersive nature of VR.
For group sessions, our tri-display format enables us to project a mirror image of what is being experienced by the user on any television screen or monitor. By allowing the group to see what is being experienced by the primary user, we promote a group experience that limits isolation, drives conversation, and stimulates interest.
Whether in the clinical setting or at the user's home, the versatility of our equipment and the unique nature of our 1-to-1 approach, makes VIRTU-WELL an ideal addition to any therapeutic action plan.
A Person-Centered Approach
All VIRTU-WELL Technicians are trained to focus on the preferences unique to each Individual. This empowers the user to customize each Virtual Reality experience in the most beneficial way.
At the end of each session, we aim to improve and expand our collection of VR experiences by gathering feedback and learning as much as we can about the individual so we can come prepared for our next visit. With an endless collection of curated experiences to choose from, users have a unique opportunity to relive their past, escape from their day-to-day routine, and gain exposure to the world in a way not otherwise possible.
Our Approach is unique. While users have the opportunity to express their interests to us directly, we also work closely with therapists, family members, and/or caregivers  to assess goals and implement interventions as part of an interdisciplinary plan of care. This line of communication is important, especially in cases where a person may be unable to express themselves due to a physical or cognitive barrier.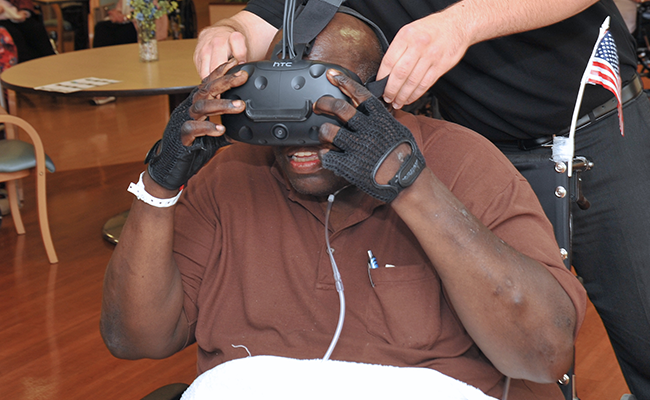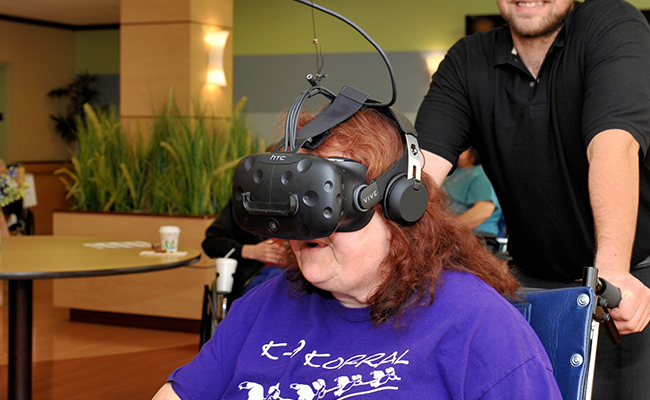 Therapeutic Outcomes
Studies have shown that Virtual Reality may be effective in addressing many of the same issues targeted by traditional recreation therapies. These include:
Anxiety Reduction
Pain Diversion
Alleviating Depression
Combatting Boredom
Stress Reduction
Providing Entertainment
The VIRTU-WELL approach not only provides entertainment, but includes a series of innovative applications intended to produce therapeutic outcomes. Our programs range from active to passive. These include:
Virtual Bucket List
Music Therapy
Pet Therapy
Art Programs
Cultural Appreciation
Spiritual & Religious Pursuits